Equi Cool Down and Back On Track – A Match Made in Heaven!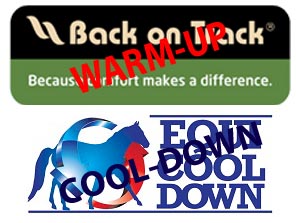 Hello Again Everyone,
I hope everyone wintered well! As we are approaching the competitive season (I know some of you never left it), part of my training routine for Spider is to give him the winter months off. He gets to relax, and rest his muscles that he used vigorously all summer long. In the early Spring I start to gradually bring him back up to his regular work routine-but the key idea is gradual. He is now embarrassingly overweight – well deserved of course, and not in the same tip top shape we left off in back in December. Bringing horses back too hard too quickly can do some terrible damage to their joints and muscles.
I am an avid fan/user of the Back on Track products. The BOT line, partnered with the ECD is an amazing team! Not just when it comes to getting Spider back in shape for rodeo season, but all summer long!
I think that a lot of people get confused between warm and cold, and when to use the two. Warm (BOT) is for soothing, and loosening the muscles. Now some would argue that you don't want a loose muscle when it comes time to compete-and I would be right along beside you! However, my reference to this is to use the BOT at the trailer prior to your warm up. You are already warming up the muscles. Continue with your regular warm up followed by stretches. Then go on and compete as usual. Why not start with already warm muscle and lower your risk of muscle injury? I travel to rodeos with BOT boots on my horses in place of shipping boots-unless the temperature is too hot.
After you're finished competing is when you apply your ECD to cool down those muscles. Cooling therapy is used on sore muscles. Again, I'm not saying that you have made your horse sore by competing on him! But he just went out there and gave you 110%, I would think that it would be acceptable for his muscles to be strained/tired/stiff. The ECD products will help cool those muscles, as well as bringing down your horses overall core temperature (specifically on hot days) and make for a better, faster recovery. Cool down is just as important as warm up-returns horses heart rate back to normal, reduces level of adrenaline in the blood and aids in the dissipation of waste products (lactic acid). Not to mention bonding time-this is so often forgotten, but truly a key factor in success. And when it is time to come home, my horses load the trailer with the leg wraps on.
This blog entry isn't only about ECD because I know that people have the products they have, and they like what they like. Let's face it-change isn't always the easiest thing to grasp. I wanted to inform you of the products I use as part of my routine-how and why, so that you too can give it some consideration. ECD is great on hot days; it cools you off quickly, your horse as well. But when used as more than just a quick cool-but as part of a work up and work down routine…you will see how truly great and helpful these ECD products are! I have had great success with mine. All three horses on my trailer are sporting them. I hope you are enjoying them as much as we are!
As stated in my previous blog-feel free to drop me a line-share an experience, ask any questions! We are also still selling them-both in our tack shop and I keep some in the trailer with us. Leave a comment on the blog or email me personally: ashley.bull@hotmail.com