We offer a range of Equi Cool Down products that all benefit from the instant cooling technology. We offer cooling products for equines and riders. Choose between:
Equine leg wraps.
Equine body wraps.
Equine neck wraps.
Beanies.
Towels.
Headbands.
Using hyper-evaporative material and revolutionary textile technology, Equi Cool Down have NO messy gels, NO beads or crystals, and require NO refrigeration. The cooling mechanism in each Equi Cool Down product is activated with one simple ingredient: Water.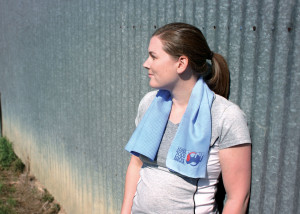 The multi-fiber PVA weave in each wrap absorbs water, providing immediate cooling relief that can last for hours. The innovative weave prevents water from evaporating instantly, instead regulating how long it takes for the water to evaporate. When activated, the wrap will drop up to 22° colder than the outside temperature, aiding in cooling down your horse's body temperature while minimizing heat and inflammation. Equi Cool Down wraps can even be used for post-injection swelling relief. The non-evasive and progressive cooling provided by Equi Cool Down can help reduce swelling, soreness and cool your horse's joints and limbs after any exercise. Safe to use directly on your horse's body, the innovative wraps are ideal for every horse owner. In addition to our range of equine products, we offer products for the rider that benefit from the same advanced technology. Activate your products in the same way you do your horses; simply add water! Shop our range of Equi Cool Down products for the
horse
and
rider
now!