EquiCoolDown has received some great praise from all corners of the equine world. Check out our cooling product reviews from equestrian news outlets below!
---
 Awards & Accolades

We're so proud to have been awarded Highly Commended of the Horsecare Equipment & (Horse) Clothing Category in the
BETA International 2015 Innovation Awards
! In addition, Equi Cool Down was the official cooling wrap for the
Alltech FEI World Equestrian Games
United States Endurance Team
. It's great to see our products getting great recognition while helping equine and human athletes from all around the world. Be sure to check out EquiCoolDown in Reviews & in the News below for even more great articles and endorsements from well known publications in the equestrian world.

---
Heather & Jeremy Reynolds of the US Endurance Team at the 2014 World Equestrian Games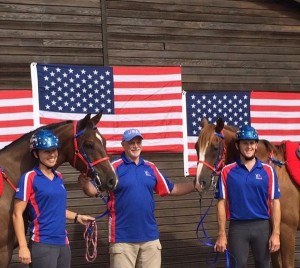 Accomplishments
4 Tevis Cup Wins
4 Haggin Cup Wins
Riders for the United States Team at the 2012 World Endurance Championship in the UK
Individual North American Endurance Championship Gold Medal in 2011
Individual Pan American Games, Washington 2003, Silver medal
Individual Pan American Games, Vermont 2001 Gold medal and Best Condition
Multiple National Championship Wins and Best Conditions
We are so very proud to share some huge news with you all this morning. we've gained an endorsement from one of the top Endurance competitors, Heather Reynolds who competes in the The Tevis Cup in California using our wraps on her 
horse and she and her husband Jeremy also were a part of the 2014 World Equestrian Games United States Endurance Team in Normandy, France. All 5 team members will be seen using Equi Cool Down Equine Body Wraps on their horses during the competition. Heather showed our wraps to the team vet and to the Chef d'Equipe and they loved them. This is Endurance's Olympicsand it is HUGE news. We'll be sending them sets of the wraps complete with USA embroidered on the side! We are so honored and excited to support such a great sport and team.
---
Rylee Elliot and Kiki | Champion Youth Barrel Racer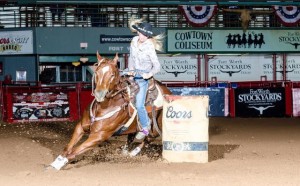 Accomplishments
2012 – 2014 Florida State Youth Champion
2014 Southeastern Youth Champion
2013 Triple Crown High Money Earner, won youth both days of the open
2013 Florida State Open Reserve Champion
AQHA Wee Feelin Special , AKA "Kiki"
" During record breaking heat on the first day of the Triple Crown Super Show in Perry, Georgia our mare Kiki stopped sweating. After her youth run, she returned to her stall and went into immediate heat stress and shock. Veterinarian Dr. Eric Johnson quickly acted and got her stabilized. If she were to continue to compete the next two days we had to find a way to cool her down. Immediately we went to the Equi Cool Down booth and purchased a body wrap. It was amazing! We kept her core body temperature down and were able to compete the rest of the weekend.
We won't go anywhere now without our Equi Cool Down Body Wrap. It was literally a lifesaver, especially for a Florida horse."
---
Palm Beach Post: Cooling Products by Equi Cool Down save Logan's Life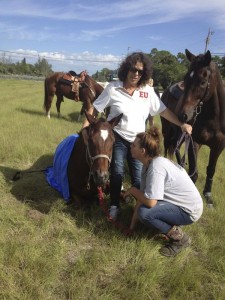 It was just another warm, humid, early fall day in South Florida. Jodie Alvarez and her friend Kaley decided to take their horses on a leisurely trail ride at a nature preserve near their home in Loxahatchee. The relaxing day turned into a nightmare when Alvarez's Thoroughbred, Logan, collapsed. Luckily, a quick-thinking neighbor brought her a new horse product designed to quickly cool a horse's body temperature. Alvarez and her vet credit Equi Cool Down for saving Logan's life. For more than just equestrian and human athletes, our cooling products offer incredible benefits for those with medical conditions, such as heart issues, anhidrosis, and more.
Read Logan's full story.
---
Ashley Bull – Champion Female Barrel Racer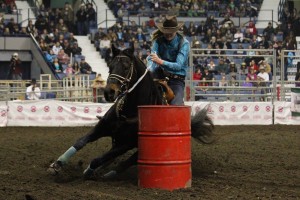 Multiple-Time Rodeo Finals Qualifier Multiple-Time Toronto Royal Agricultural Winter Fair Invitational Rodeo Competitor Extreme Cowboy Race-Fastest time on both rounds, 3rd place finish 2003-Dodge Rodeo Tour Jr. Barrel Racing Champion 2003-ORA Finals Rodeo Jr. Barrel Racing Champion 2009-Windrider Challenge Champion 2009-RAM Rodeo Tour Ladies Barrel Racing Champion 2009-CCA Finals Qualifier-Regina, SK 2012-London Western Fair Barrel Stake Champion 2012-RAM Rodeo Tour Ladies Barrel Racing Champion 2012-CCA Finals Qualifier-Regina, SK 2014-RAM Rodeo Tour Ladies Barrel Racing Champion 2015-RAM Rodeo Tour Ladies Barrel Racing Champion
I just wanted to let you know that both myself and my horse Spider use your products and absolutely love them. I am a migraine sufferer so the headband is a great product for me on the hot summer days. We compete in rodeo so I need to be on the top of my game if we want to be successful. We travel all over Ontario so it is imperative that Spider cools down quickly after his barrel race because I am loading him back on to the trailer to head down the road to the next one. I can get into a list of his accomplishments in detail if you would like but he is a 3-time Ontario RAM Rodeo Ladies Barrel Racing Champion, 2-time Qualifier to the Canadian Cowboys Association Rodeo Finals in Regina, Saskatchewan-(finishing second once), multiple time RAM Rodeo finals qualifier. We have a tack shop that stocks your product. And we would be more than happy to endorse/promote your product. I also have my next up and coming horse on your products as well.
---
Leanna Billie
EIRA (Eastern Indian Rodeo Associations) 6 x year-end Women's all-round champio
n
EIRA 6 x year-end women's
Breakaway champion 2014
EIRA Team Roping year end Reserve Champion head
er 6 x Qualifier in th
e Breakaway & Team roping to the Indian National Finals Rodeo held in Las Vegas Nv.
Only female to win money and make the PRCA southeastern Circuit standings in the team roping Only female to Haze in the steer wrestling in the PRCA Southeastern Circuit and at the Indian National Finals.
In
vited to the biggest All ladies team roping in Reno Nv in 2015 and 2016. Have gone to the WPRA finals twice in the Tie down roping, Breakaway ropi
ng , team roping.

"Be
ing from Florida and as hot as it gets here it's always been a concern for me as a horse owner and trained Vet tech to always be careful of my horses horses getting to hot I have seen horse drop and not get back up just from being to hot. Just like a lot of horse owners I am always looking for best product that works the best for me and my horses and gives the best results. It has been hard trying to find something that will help my horses through the heat I have tried so many different products and the one that has worked best for me and my team was the Equi Cool Down leg wraps once I put them on my horse was feeling better he was cooling down nice and easy after working hard at the rodeo. You could tell he was loving the refreshing feel of it."