Welcome to the NEW EquiCoolDown.com!
Welcome! We are SO EXCITED to be launching our new website at EquiCoolDown.com! You can still order our award winning products directly from us – shop there now!. We're so excited about our new site that we've relaunched our Facebook, Pinterest and Twitter – head on over to see what goodies we have in store for our fans and followers! There's a chance to win an Equi Cool Down body wrap and to be featured in our next blog, so don't delay!
Wherever you are – home, on the road, even on the trail, if your horse gets overheated, Equi Cool Down has the revolutionary answer with our cooling products for horses and humans. Wet your Equi Cool Down wraps and towels with ANY water – even hot – and it instantly chills down to start transferring heat away from your horse's body. (And yours too!)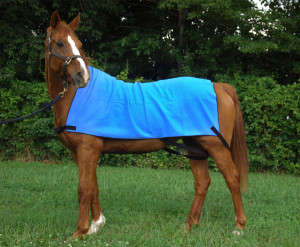 Beyond the body, neck and leg wraps for horses, riders can enjoy the same relief with Equi Cool Down's towel, headband, and helmet/hat-lining beanie, and avoid dangerous heatstroke when out on the trail or showing/training on a hot day. Read about why it is SO important to keep yourself and your horse cool – heat hurts, cool it quick with NO gel, ice, or refridgeration needed.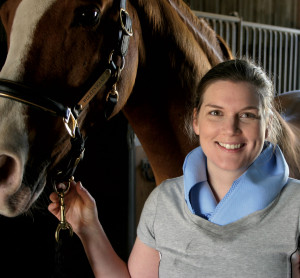 Be sure to check out our endorsements – we are proud to have the support of eventers, endurance riders, barrel racers, professional grooms. We are the Official Cooling Wrap for the World Equestrian Games US Eventing Team, and we have been featured in the Palm Beach Post!
So, what are you waiting for?? Order Equi Cool Down for your horse and yourself and help us celebrate our website launch!