Reprinted with permission from Karen Chaton on "Karen's Product Reviews" on karenchaton.com
Posted on October 6, 2016 by Karen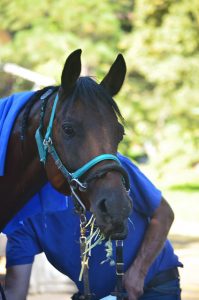 I first had the chance to use one of the Equi Cool Down towels at the Tevis this year.  I had never heard of this product before and now I was surrounded with people using them at all of the vet checks during the heat of the day.  Crews were dunking them in buckets of ice water and putting them on my horse Bo's neck, or handing one to me to put on my own neck.  I was intrigued and wanted to learn more about these towels and how they work.  I contacted Equi Cool Down, a company based in Florida, USA and they sent me some of their items to trial.
I tested all of the items during August when it was hot on both of my horses. I took temperature readings in all different kinds of conditions with my heat gun and took photos to document the difference with and without the cooling towels so that we could compare. We used the cooling products at a couple of different endurance rides and the conclusion is that yes, they really do work to help with cooling down for both horse and human.  They work best if there is constant air movement so are perfect to put on a horse coming into a vet check, or to use during a vet check you just need to simply flap the material to activate.
Equi Cool Down Pros:
Equi Cool Down wraps do not require refrigeration.
They are reusable
They can be hand washed or machine washed
They do provide cooling that is generally 20-30 degrees cooler than without
They minimize heat and inflammation
Easy to activate by flapping material, or by movement
This is a patented product.  You can buy it cheaper elsewhere, but it isn't the same thing, the old adage applies here: "you get what you pay for".
Equi Cool Down Cons:
These can dry out and possibly crack if you don't wet them before bending (Note that it is recommended that if you are going to store these for an extended period to allow them to dry.  Otherwise, for frequent and regular use keep them damp inside the zippered plastic storage bags that they come in.)
You do need to keep movement going to keep them working
Sizing for horses was based on larger sized horses than my 15.1 hh Arabians, though the material is easy to trim down
Check out the difference in temperature with and without the Equi Cool Down products.  I would have to say that this product meets and exceeds expectations and performs as well and even better than the manufacturer claims.
Leg Wraps: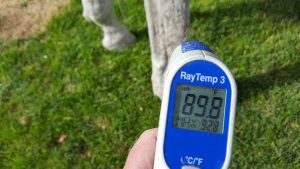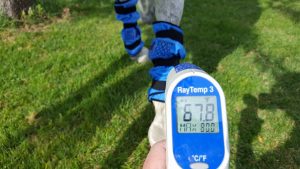 Neck Wrap: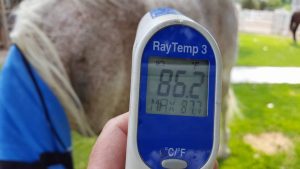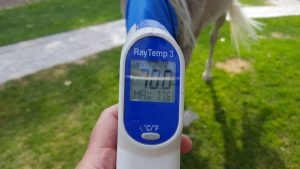 The neck wrap comes with a clip to hold it on to your horse's mane I remembered to use the strap on Chief so it wouldn't fall down while he grazed today after his workout.   The neck wrap and leg boots work great when your horse is grazing to cool down after a workout.